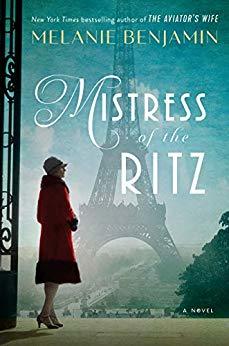 I recently read one of Melanie Benjamin's books and was really taken by her research and writing abilities. When I saw that she had another book coming out so soon, I was eager to jump on board and see how this one compared.
To be honest, I was way more excited about this book than the original book I read, The Girls in the Picture. This one sounded a little more like something I would be into. While I loved the 'old Hollywood' vibe in The Girls in the Picture, WWII is more my time period.
As with the first book I read by this author, I love the cover art and found my eye being drawn to the cover again and again. It promised the elegance and romantic vibe of the city of Paris, but also indicated something a little more tragic on the horizon.
Summary
In March 1940, the Nazis sweep Paris and immediately take up residence in one of the city's most iconic sites: The Hotel Ritz. There, under a roof legendary for its unprecedented luxury and for its fabled residents–including Coco Chanel, the Duke and Duchess of Windsor, Cole Porter, Hemingway, Balanchine, Doris Duke, F. Scott Fitzgerald, and now Hermann Göering–the Nazis rule over a paralyzed city.
But two residents of the Ritz refuse to be defeated: its director, Claude Auzello, and his beautiful American actress wife, Blanche. They not only oversee the smooth workings of the hotel, but both Blanche and Claude throw themselves fearlessly into the dangerous and clandestine workings of the French Resistance.
This is a true-to-life novel of a courageous woman and her husband who put their marriage–and ultimately their lives–in jeopardy to fight for freedom. Intimate, fearless, and moving, it spins a brilliantly and unforgettably vivid human portrait at a time of unimaginable crisis and sacrifice (summary from Goodreads).
Review
Lately there has been a rash of historical fiction novels based on women spies during the World Wars and I am totally here for it! So much emphasis is put on soldiers in the wars with women often being depicted as sock knitting home bodies waiting for their men to come home.
As many of us know, there were a number of women who went to work in factories and took up the jobs of men who were off fighting. But as we have seen in recent years, there were a number of women who also worked in covert ops, spying, and espionage in the wars. Many of those women risked their lives to pass on information or save the lives of soldiers or innocent people. This particular book, while historical fiction, is based on a real life woman which made it so much more exciting for me to read!
When I started this book, I didn't know if the characters were based on real people or not, but I strongly suspected that they were. Benjamin wrote with such knowledge on the characters and the time period that I couldn't help but suspect they were based on real life individuals.
This book was very emotional and not something I would call a 'light' read by any means. I often found myself nervous for the characters, anxious about the occupation, and of course all the risks the characters were taking. It was a book that I easily became invested in from the start.
There was also quite a bit of romance in the story which I thought nicely balanced the heavy historical content. I also liked how the author addressed some of the issue that Blanche struggled with, such as actually liking some of the Nazi soldiers. I thought that was a very realistic issue that I often wonder about sometimes and I liked how the author moved the characters through issues such as that.
Overall I enjoyed this book and reading about new historical tidbits during a time period where so much material is in the market, I felt like this book stood out and a cross between romance and more serious historical fiction. A wonderful blend of the two!
Book Info and Rating
Kindle Edition, 384 pages
Expected publication: May 21st 2019 by Dell
WHERE TO BUY (AFFILIATE LINKS)