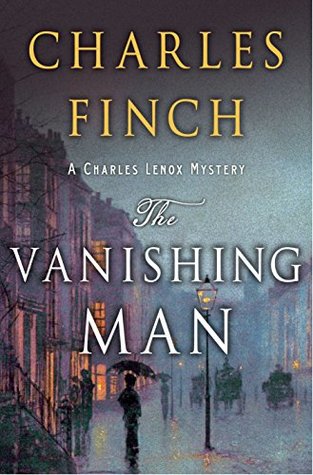 I have been a long time fan of the Charles Lenox mystery series. I believe I binge read the first three books and then had to wait for the next one to come out and when it did, it was in my Kindle on release day since I had it on pre-order months in advance!
Charles Lenox has been a wonderfully entertaining detective and I adore so many of the mysteries in this series! Sadly I got sidetracked by other books and missed a couple in the middle, but I always came back to the series and found something to love in many of the books!
When I saw that a prequel was in the works I was ecstatic and eager to read about a young Charles Lenox! I haven't read The Woman in the Water yet, which is the first prequel, but I was thrilled when The Vanishing Man came up. I have had a lot of luck jumping around in this series and I figured the prequels would be no different.
Summary
London, 1853: Having earned some renown by solving a case that baffled Scotland Yard, young Charles Lenox is called upon by the Duke of Dorset, one of England's most revered noblemen, for help. A painting of the Duke's great-grandfather has been stolen from his private study. But the Duke's concern is not for his ancestor's portrait; hiding in plain sight nearby is another painting of infinitely more value, one that holds the key to one of the country's most famous and best-kept secrets.
Dorset believes the thieves took the wrong painting and may return when they realize their error—and when his fears result in murder, Lenox must act quickly to unravel the mystery behind both paintings before tragedy can strike again. As the Dorset family closes ranks to protect its reputation, Lenox uncovers a dark secret that could expose them to unimaginable scandal—and reveals the existence of an artifact, priceless beyond measure, for which the family is willing to risk anything to keep hidden.
In this intricately plotted prequel to the Charles Lenox mysteries, the young detective risks both his potential career—and his reputation in high society—as he hunts for a criminal mastermind (summary from Goodreads).
Review
When I read a Lenox mystery, I always feel like I have read a quality mystery—a true detective novel. Sometimes historical mysteries boarder on cozy, but this series has its feet firmly in detective novel with the focus always being on the mystery and gathering clues. While not it's not a 'gritty' series at all, I find it comfortable and reliable with interesting mysteries that allow me to gather clues along with the detective and try to sort the puzzle out for myself.
I adore Lenox and have from the very beginning. He has a great sense of humor and in this book that quality about him really shines. He is also quick, smart, and cleaver which makes him a fun lead in this story.
One of the things I like about this series is , although there are back stories and personal plots for many of the characters in the series, Lenox included, it never becomes the focus of the story but rather stays focused on the mystery. As a result, it is easy to bounce around in the series and not feel like you have missed a ton and this book is no exception.
I found plenty to entertain myself with in this book and I especially loved seeing the early relationships with many of his friends and colleagues as well as his family. Having been such a long time fan, it's fun to see how those relationships have evolved over time. I will say though, the character Lancelot was a hoot! I adored him and found my self chuckling many times. He was a fun one!
Overall I found this mystery solid and what I would expect from a seasoned writer like Finch. Lenox was in his classic role of smart and quick witted detective with a sharp eye and there were enough red herrings to keep me guessing until the reveal. This is a series that I know I can turn to for solid quality and this installment met all of my expectations.
Book Info and Rating
Kindle Edition, 304 pages
Published February 19th 2019 by Minotaur Books
WHERE TO BUY (AFFILIATE LINKS)