When this book popped up for review, I was thrilled! I haven't read the first book in the series, but it has been on my radar. Then this one came up and I was eager to dive in.
I am absolutely in love with the cover and can't get enough of the colors and the gorgeous art deco details in the background. I felt like the cover absolutely captures the time period and would make readers excited to pick this one up……I know I was excited!
With this being the second book, I was hopeful that I hadn't missed too much of the character back stories and that I wouldn't be too lost. I also liked that it was set in Boston and not the typical New York or London settings that are so popular in many historical mysteries.
Summary
Determined to make a life for herself, Reggie Van Buren bid goodbye to fine china and the man her parents expected her to marry and escaped to Boston. What she never expected to discover was that an unknown talent for sleuthing would develop into a business partnership with the handsome, yet shy, Hamish DeLuca.
Their latest case arrives when Errol Parker, the leading base stealer in the Boston farm leagues, hires Hamish and Reggie to investigate what the Boston police shove off as a series of harmless pranks. Errol believes these are hate crimes linked to the outbreak of war in Europe, and he's afraid for his life. Hamish and Reggie quickly find themselves in the midst of an escalating series of crimes.
When Hamish has his careful constructed life disrupted by a figure from his past, he is driven to a decision that may sever him from Reggie forever . . . even more than her engagement to wealthy architect Vaughan Vanderlaan (summary from Goodreads).
Review
So, I think I should have read the first book before this one. I did feel like I was missing some plot holes and little nuances of the story. I think the author attempted to help new readers orientate in the story, but for me, I felt like I would have appreciated more of the story if I had read the first book and then started this one.
I did like that this book had a lot of romance, but I was surprised that the romantic elements outweighed the mystery in some spots. It's such a delicate balance when incorporating romance into mystery novels but even if this was a little heavy handed on the romance, I found that I enjoyed the romantic elements and continued to mostly stay invested in the mystery. I thought Reggie and Hamish has great chemistry but I would have liked to have had a little more focus on the mystery itself as this book series seems to be more of a detective series.
I did like how well Boston was described by the author. I felt like I was there and could see everything. But then I felt like that same descriptiveness didn't carry over all the time. There were some times in the action sequences that needed more descriptions about how things happened.
This one landed firmly in the middle for me. On one hand I didn't love it like I was expecting to but on the other hand I wasn't sure if that was because I hadn't read the first book or if I truly just didn't like the novel. In the end I decided to go for a 3 star review. I don't know that I would read any more books in the series without first going back and reading the first book as it seems like things would make a lot more sense then,
Book Info and Rating
Kindle Edition, 336 pages
Published May 28th 2019 by Thomas Nelson
WHERE TO BUY (AFFILIATE LINKS)
About Rachel McMillan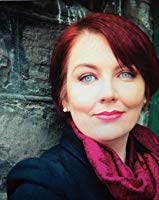 Rachel McMillan is the author of the Herringford and Watts mysteries, the Three Quarter Time series of contemporary romances set in opulent Vienna, and the Van Buren and DeLuca mysteries praised for bringing an authentic 1930's Boston world to life while normalizing the fictional conversation surrounding mental illness. Her first work of non-fiction, described as a romantic's guide to independent travel, releases in 2020. Rachel lives in Toronto, Canada.
Connect with Rachel
Instagram tour:
Tuesday, June 4th: @thesaggingbookshelf
Wednesday, June 5th: @jessicamap
Thursday, June 6th: @rendezvous_with_reading
Friday, June 7th: @booktimistic
Friday, June 7th: @jennblogsbooks
Sunday, June 9th: @simplykelina
Wednesday, June 12th: @sarahs_reads
Thursday, June 13th: @createexploreread
TOUR REPLAY: @TLCBookTours
Review tour:
Monday, June 10th: I Wish I Lived in a Library
Tuesday, June 11th: Reading Reality
Wednesday, June 12th: What is That Book About – spotlight
Thursday, June 13th: Running Through the Storms
Friday, June 14th: Audio Killed the Bookmark and @beritaudiokilledthebookmark
Sunday, June 16th: Amy's Book-et List
Tuesday, June 18th: @beauty_andthebook
Wednesday, June 19th: @pnwbookworm
Thursday, June 20th: Lori's Reading Corner – spotlight
Friday, June 21st: View from the Birdhouse
Monday, June 24th: @amberafterglowreads
Wednesday, June 26th: The Sketchy Reader
Thursday, June 27th: Write Read Life
Monday, July 1st: Bookworm for Kids
Tuesday, July 2nd: Christian Chick's Thoughts
Wednesday, July 3rd: Blooming with Books
Friday, July 5th: Buried Under Books
Monday, July 8th: Diary of a Stay at Home Mom
Thursday, July 11th: The Lit Bitch
Friday, July 12th: Broken Teepee
TBD: Friday, June 28th: I Read 'Till Dawn