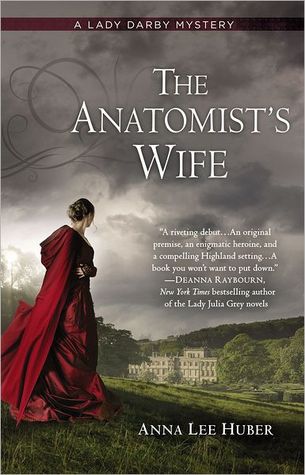 After reading Anne Lee Huber's novel Secrets in the Mist, I realized how desperate I was for another Gothic romance novel. I wasn't really up for a murder mystery but everyone raved about Huber's Lady Darby mysteries so I thought I would try out her well known mysteries that boast Gothic elements and romance.
The Anatomist's Wife was on my radar years ago when it released and I recall trying desperately to win a copy when it was published. I obviously didn't win a copy, but I did try very aggressively for days. Then of course I moved on to some other novels only to have this one resurface again on my radar.
Scotland, 1830. Following the death of her husband, Lady Darby has taken refuge at her sister's estate, finding solace in her passion for painting. But when her hosts throw a house party for the cream of London society, Kiera is unable to hide from the ire of those who believe her to be as unnatural as her husband, an anatomist who used her artistic talents to suit his own macabre purposes.
Kiera wants to put her past aside, but when one of the house guests is murdered, her brother-in-law asks her to utilize her knowledge of human anatomy to aid the insufferable Sebastian Gage–a fellow guest with some experience as an inquiry agent. While Gage is clearly more competent than she first assumed, Kiera isn't about to let her guard down as accusations and rumors swirl.

When Kiera and Gage's search leads them to even more gruesome discoveries, a series of disturbing notes urges Lady Darby to give up the inquiry. But Kiera is determined to both protect her family and prove her innocence, even as she risks becoming the next victim…(summary from Goodreads). 
So I devoured this book in a matter of days. This book was more mystery than Gothic romance but that was fine by me. I loved the odd nature of Kiera's marriage to Sir Anthony and how she was shunned by society to the extreme. I loved Kiera's attitude…..a spicy little thing and I loved that! Her wit and tart responses to the frustrating Gage were endearing and at times made me laugh out loud from how perfect they were. The one that stands out in my mind is when she reveals herself in the library to Gage after questioning a suspect. I died laughing at her retort. From that moment on, I loved her and knew I would be reading this whole series in rapid succession.
The mystery was equal parts dark and unthinkable. I loved the red herrings and twists in the plot with the end culminating in a climax that was cultivated for just the right amount of time for readers.
But it wasn't Kiera and the mystery that completely hooked me…it was the chemistry between Kiera and Gage that made me LOVE this book. At times, I wasn't entirely convinced that Gage cared for Kiera to the degree that the author wasn't us to believe….likewise, I thought Kiera was uncharacteristically taken with Gage and it didn't make sense. That said…..I didn't care in the least. I thought Gage was charming and sexy in his own right and it was clear that he was at the least attracted to Kiera but I didn't get the same tormented love interest that I think was being implied in this book. Kiera acknowledged Gage's good looks and easy manners and that she liked him more than she was willing to admit and it was easy to believe her at least in that regard…..however, Kiera was seemingly so put off by men from her marriage to Sir Anthony that I felt like she needed a little more 'winning over' from Gage than we got in this book for it to be believable.
However, as I said, I didn't care one wit if their individual feelings needed more development because when you got them together in the story, it was the perfect fit not just for romantic inclinations but for a true detective partnership. I suppose thinking back, it's fitting that their relationship isn't all brooding and moody in the first book because they are just getting used to the idea of each other…..and I fully expect to see more in this regard in later books.
I loved Kiera and Gage together….they worked so well together. Each had their flaws as characters and I loved watching them try to work together……rather successfully I might add. It's been a long time since I've read a series whose two main characters captivate me in both a romantic sense and a detecting sense….I loved this book! I can't believe it took me this long to read it!
Challenge/Book Summary:
Book: A Death by Any Other Name (Lady Montfort Mystery #3) by Tessa Arlen 
Kindle, 357 pages

Published November 6th 2012 by Berkley (first published January 1st 2012)

Review copy provided by: Personal collection
This book counts toward: NA
Hosted by: NA
Books for Challenge Completed: NA
Recommendation: 5 out of 5
Genre: Mystery, gothic romance, detective novel, Regency era
Memorable Quotes: NA