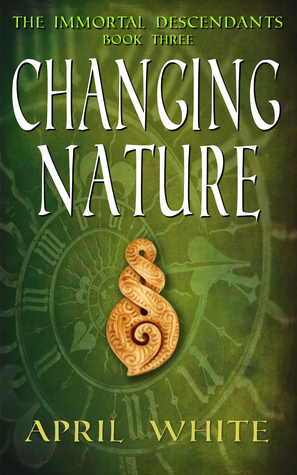 The Immortal Descendants has been one of my most favorite new series over the last year or so. I absolutely love the world that the author has created.
Each book moves the story forward and the world and the premise of the story, characters, and plot are all unique but yet work so well together.
In this third book, we find 'Clocker' Saira and Archer enjoying a summer of romance when suddenly Immortals start being kidnapped.
The 'Mongers' will do anything to gain power and control over the other descendant families, especially after they target a powerful shifter.
Saira and Archers (along with the rest of her crew) must travel back in time again to track down their nemesis, Bishop Wilder. This time they find themselves in Paris…..1429.
At that time, Paris is anything but the city of love that it is today. The city is besieged by marauding wolves led by a fanatical peasant girl who will be known in history as Joan of Arc.
I don't want to give too much of the plot away because it's such a great read and a wonderful series. It's something the reader should enjoy on their own.
The first book does a great job setting the world up, covering the history and background, and the second book follows suit but with more action. This book follows a similar pattern, the author gives enough background info to sustain the complex world but relies on the solid foundation of earlier books so that she can add in more action to quickly engage her audience.
Besides the great story telling and world building, I love love love Saira as a heroine. A lot of YA books have a wishy washy heroine, strong when it comes to being a bad ass but wishy washy when it comes to matters of the heart.
Saira is much different. She is incredibly strong emotionally, she is intelligent, sure of herself and she is sure of who has her heart.  I love that about her. She is a self possessed woman who knows what she wants and isn't afraid to say 'hey I know what I want'.
The only thing I was a little shocked by was that Saira and Archer's relationship wasn't as progressive as it has been in the first two books. It felt a little stagnant for me and I can't quite put my finger on why.
There are a lot of different genres happening in this book…..a little YA, a little romance, a little paranormal, a little history, a little adventure, a little mystery….basically there should be something in this book the readers will like. And the best part….all of which are done so well!
One of the things that I always walk away with after reading an Immortal Descendants books is this overwhelming sense of research that went into a great read! A lot of authors just pick one time period when they write time travel books. I would imagine they do that because there is so much research that needs to be done on each period to make the setting believable and realistic.
With these books, Saira and her friends travel to many different historic periods meeting important historic figures. So the amount of research that needs to be done in order to make the book believable and the author really knocks it out of the park each and every book!
I am eagerly waiting for the next book in the series. I can't wait to see where Saira's adventures take her. This series took me by complete surprise. Before I even read the first one I was like hummm sounds interesting but wasn't overly chomping at the bit.
After the first chapter in book one, I was HOOKED and fell absolutely in love with the series as a whole. If you haven't picked it up yet, the first book is free on Amazon right now so pick it up! You won't be disappointed.
Challenge/Book Summary:
Book: Changing Nature (The Immortal Descendants #3) by April White
ebook

Published January 22nd 2015 by Corazon Entertainment

Review copy provided by: Author in exchange for an honest review
This book counts toward: NA
Hosted by: NA
Books for Challenge Completed: NA
Recommendation: 4.5 out of 5
Genre: YA, fantasy, Tudor lit, Steampunk
Memorable lines/quotes: