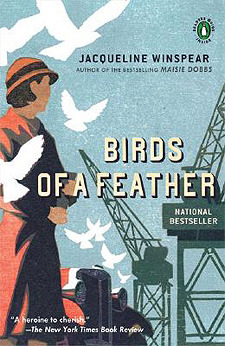 Having read the first Maisie Dobbs book a couple of years ago, I wasn't terribly intrigued and dying to read the next book.
I was a little underwhelmed with the first book, it was ok but Maisie wasn't the same as some of my other favorite female detectives.
Well I didn't want to write the series off all together so back then I bought the second book in the series and then just kept it in my TBR queue for a rainy day.
A 18 hour plane ride seemed like as good as any time to read the next book so I decided to pick it up.
It's the spring of 1930 and Maisie is still struggling to 'move on' from her post-war depression and continue to grow her detective agency. Her side kick Billy, is continuing to struggle with post war life and Maisie herself cannot move on from the love of her life returning from war beyond damaged. The only thing that Maisie has is her work.
Thankfully a case presents itself soon for Maisie and Billy, which promises to keep them both busy and distracted…..but it also has a Great War connection. A father contacts Maisie whose daughter has run off……again.
Since the family has money and a reputation to protect, the father asks that Maisie not go to the police but rather track down his daughter and make her return home.
As Maisie begins investigating the woman's disappearance, she soon makes a connection between two other murder cases and a possible suicide. Could this heiress that Maisie is looking for, be the next victim?
So I am not entirely ready to give up on this series yet. While I am struggling to make a connection to Maisie, I like her enough to keep reading and am curious to see how she pulls herself up from the ashes. I can't say that I love her as much as other female detectives that I've read but I am trying to give her a shot.
I liked this book a little better than the first one. It was a little cliche at times and not really heavy on the mystery, but it was intriguing enough for me to keep reading. I liked the Great War connection and I felt that that piece was what really kept me reading.
I also liked the potential for a romance in her future. In the first book, her first love is damaged beyond repair and Maisie is kind of stuck in limbo, unwilling to move on with her life. In this book it seemed like she was finally willing to consider other potential suitors and I am looking forward to seeing how that plays out in future books.
Part of me felt frustrated by Maisie's techniques in this book that I don't remember from the previous book. For example, Maisie would interview someone or would discover a clue and then not reveal to the reader some of the info that was given or what the clue was.
That was frustrating, I felt like I was deliberately being kept in the dark so that I wouldn't figure out the mystery. In essence I felt like I was not working 'with' Maisie on the mystery or being able to try and put things together but rather being told about the mystery.
This book was more about the mystery than in the previous book so I did like that we are kind of moving into the whole mystery part of the story more rather than focusing on Maisie's personal life.
Winspear did an excellent job with the historic accuracy of the novel and the Great War…I was very impressed with her knowledge. She excelled in capturing the 'feel' of this time period….a nation was in great mourning after the war…..in a state of complete despair and 'deadness'.
Which is why I think she made Maisie more 'flat' and 'dead' in the first book rather than going with the traditional cozy protagonist–to impress upon the reader the mood of all the people in England after the war. I am pleased that like the time, Maisie is changing and evolving and coming out of the post war depression.
I would be willing to give this series another book or two before I decide if I will keep reading. It wasn't 'bad', it was definitely an improvement over the first book but still needs a little 'something'…..hopefully the potential romance will add that little something that I am looking for to hook me in this series!
Challenge/Book Summary:
Book: Birds of a Feather (Maisie Dobbs #2) by Jacqueline Winspear
Kindle Book
Published 2005 by Penguin

ISBN 0143035304

(ISBN13: 9780143035305)

Review copy provided by: Personal collection
This book counts toward: NA
Hosted by: NA
Books for Challenge Completed: NA
Recommendation: 3.5 out of 5
Genre: Historic fiction, mystery, detective novel
Memorable lines/quotes: