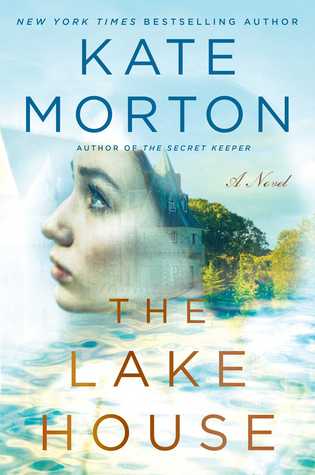 Alice Edevane grew up in a charming lake house on Cornwall coast just after the Great War. Cornwall is a mystical place that inspires imagination and welcomes thoughts of magic. A perfect place to inspire a young girl to write.
Alice always knew she wanted to be a writer and living in a large home full of people with their own 'stories' she couldn't help but write them down. But one summer, the unthinkable happens….her brother disappears without a trace never to be seen again. Alice thinks she knows what happened and for the next seventy years she harbors extreme guilt.
Now a successful mystery writer, Alice buries her secret deep within and prays that no one will find out what really happened to her little brother Theo and after seventy years and the case still unsolved, she begins to feel safe…..until Sadie Sparrow arrives in Cornwall.
Sadie is on leave from the police forces….forced leave that is. She decided to stay with her grandfather in Cornwall until her 'incident' with the police force gets resolved. While out for a morning run, she stumbled upon a deserted country house by a lake. She feels drawn to the house and asks her grandfather about it. He explains that it was once the site of a missing persons case in the 1930's. No one ever found the child and the house has been deserted ever since.
Unable to let a cold case go, regardless of how old it is, Sadie starts researching what happened at the lake house back in the 1930's and slowly but surely she starts to unravel a dark family secret….many of them.
This book is my first experience with Kate Morton and let me just say, I am completely blown away by her story telling abilities! At first I was kind of confused by what was going on and I didn't really care for Sadie as a POV character. Something about her just didn't grab me. It wasn't until about chapter four or whenever we met Peter, that I started to feel connected to the book. It was clear from the beginning that there were going to be a lot of characters and a lot of different voices telling the reader about the 'story' so in some ways I was a little worried about keeping track of who was who.
But those concerns were completely unfounded. Once I got 'hooked' in the book, I was completely absorbed and able to following along with all the different narrators and the complex family history/backstory. The back story was fully engrossing to me. I have a huge interest in all things Great War era so this setting provided a flawless backdrop to this moving story and mystery.
This novel wasn't just a historic fiction novel, it was sort of a mystery too. It was not a mystery in the traditional sense/genre, but it had the whole family secret, unsolved disappearance…..all that sot of stuff. It was absolutely wonderful!
I loved the atmosphere that Morton created throughout the novel as well. It was the perfect fall read for me. The atmosphere kept building and building as the novel went on……it was almost suspenseful, but I would say more like the secrets just kept being revealed and offering new possibilities for what happened to Theo. This novel had hints of romance and misplaced love, but for me it was more about family secrets and being a 'woman' if that makes sense. There were a lot of female themes in the book like marriage, wifely duties, motherhood, promises, and yes some romance…..so I thought that added a lot to the novel for me.
I absolutely loved this book. It's not a book to be devoured in one sitting…..though you easily could…..for me I wanted to curl up and stay in that book forever because it just kept getting better and better as the story unfolded. I didn't want it to end. I love books set at the turn of the century, sort of with a Downton Abbey feel to them….a family secret or mystery, and of course a little hint of romance and this book had all that in spades. I simply can't say enough how wonderful it was! I need more books by Kate Morton ASAP!
Please check out other stops on the tour for author interviews and guest posts as well as a number of other reviews! The schedule is listed below!
Challenge/Book Summary:
Book: The Lake House by Kate Morton
Kindle edition, 400 pages

Published October 20th 2015 by Atria Books (first published October 5th 2015)

Review copy provided by: Publisher as part of the HFVBT book tour in exchange for an honest review
This book counts toward: NA
Hosted by: NA
Books for Challenge Completed: NA
Recommendation: 5 out of 5
Genre: Historic fiction, romance
Memorable lines/quotes: NA
Monday, October 5
Review at Just One More Chapter
Tuesday, October 6
Spotlight at Passages to the Past
Thursday, October 15
Review at The Eclectic Reader
Review at History From a Woman's Perspective
Monday, October 19
Review at The Baking Bookworm
Tuesday, October 20
Review at Unshelfish
Review at Luxury Reading
Wednesday, October 21
Review at Book Drunkard
Review at Ageless Pages Reviews
Monday, October 26
Review at Beth's Book Nook
Tuesday, October 27
Review at Peeking Between the Pages
Wednesday, October 28
Review at The Maiden's Court
Thursday, October 29
Review at Book Nerd
Friday, October 30
Review at A Chick Who Reads
Sunday, November 1
Review at One Book Shy of a Full Shelf
Monday, November 2
Review at A Book Geek
Review at CelticLady's Reviews
Tuesday, November 3
Review at Bookish
Review at Bookramblings
Review at Flashlight Commentary
Wednesday, November 4
Review at Broken Teepee
Review at Words and Peace
Thursday, November 5
Review at The Lit Bitch
Review at Kinx's Book Nook
Friday, November 6
Review at A Literary Vacation
Review at Curling Up By the Fire