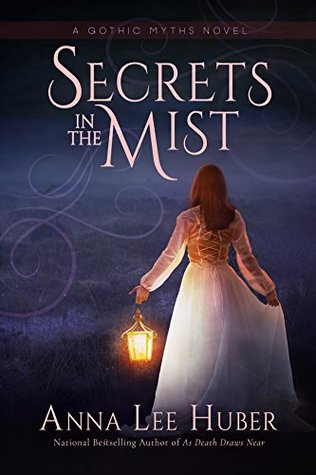 I have been craving a Gothic romantic suspense novel for a while, I just haven't been able to find something more contemporary than Victoria Holt. Now don't get me wrong, I love Victoria Holt but I just wanted something a little more up-to-date.
I downloaded a sample of this one months ago but just never got around to starting it. So on a whim I decided to just read the sample and see how it was. I was completely hooked from the first couple of chapters!
Foggy marshes, a chance encounter on a misty night, a handsome stranger masquerading as someone else, spies, and a damsel in distress? This book had it all! I found myself wondering why in the world I didn't start this one sooner!
I haven't read anything by Anna Lee Huber, but I've had her book series, Lady Darby Mysteries, on my radar for years, but for some reason I just never have gotten around to reading it.
The description of this book caught my eye, especially since it's marketed to fans of Victoria Holt and Mary Stewart….I can never resist a Gothic romantic/suspense novel!
England 1812. Since the death of her mother and brother, Ella Winterton's life has been consumed by keeping her drunkard father out of trouble and the roof of their crumbling cottage over their heads. But even isolated deep in the Norfolk broads, Ella has never been afraid of the marshes surrounding her home, despite their being riddled with treacherous bogs and local smugglers.
Until one night a man masquerading as a Lantern Man—a frightening figure of local legend—waylays her in the marshes near her home, and her world suddenly begins to spiral out of control.
Ella can tell her friends and the local villagers are all hiding something terrible, something they refuse to share, and she can't help but wonder if it has to do with the Lantern Man and his secret activities in the shadows of the seemingly quiet broads. But when Ella's father is caught with smuggled brandy by the authorities and levied a crippling fine, she is forced to turn to the stranger for help, despite her distrust and his alarming ability to kiss her senseless.
Now she must unravel a twisted trail of deception and secrets, and uncover once and for all whether the Lantern Man is friend or foe. Or else risk being dragged down into the marshes, like the victims from the myth, and buried in a watery grave (Summary from Goodreads).
While I am perfectly happy to rave about this book, it wasn't without some flaws. I think the biggest thing for me was I was wanting more romance. Yes there are a few stolen kisses and it's strongly implied that Lantern Man and Ella care for each other but in the end, I was slightly less convinced of Lantern Man's feelings. There wasn't the dramatic profession of love and affection that I was expecting in this book. I kind of expected more romantic gestures or declarations since this book was from a more contemporary author but for some reason this book fell short in that aspect.
That's not to say that there wasn't any romance, I was just looking for more of a profession of love from Lantern Man and perhaps from Ella in return. That said, I didn't feel entirely jilted or robbed from the romance, I loved the clandestine meetings and whole secret identity parts. Not to mention the misty fens and smuggling totally hooked me and made me want to keep reading and reading and reading.
At times I was a little annoyed by how blind Ella was to her situation but on the whole she was a likable heroine that readers could sympathize with. I didn't care for Kate, for someone who Ella professed to be her best friend and she was closer to than a sister, I never felt like their relationship was to that degree. Kate had few appearances and when she did appear she never came off as likable or like she had Ella's best interests at heart. I simply never liked her.
While this book had some flaws, I still gave it 4.5 stars. It grabbed my attention and I simply LOVE Gothic romantic suspense novels and I was thrilled to have something a little more modern than some of the classic Victoria Holt or Mary Stewart books I've read in the past. Huber's story telling was charming and yet haunty which works so well with Gothic novels. I actually woke up in the middle of the night and simply couldn't get the characters or the plot out of my mind so I had to start reading it again! I loved this one and I am thrilled to see that she has more books in this series coming out…..sadly not until 2018 which really makes me mad because I want the next book like NOW!
I am also going to be moving up her Lady Darby series in my TBR list!
Challenge/Book Summary:
Book: Secrets in the Mist (Gothic Myths #1) by Anna Lee Huber
Kindle Edition, 344 pages

Published October 25th 2016 by Brightstone Media, Inc. (first published October 13th 2016)

Review copy provided by: Personal collection
This book counts toward: NA
Hosted by: NA
Books for Challenge Completed: NA
Recommendation: 4.5 out of 5
Genre: Gothic lit, romantic suspense, historical fiction, mystery, Regency lit
Memorable lines/quotes: 
One couldn't simply stop caring because the person didn't merit it.

But the heart doesn't always accept reason, no matter how many times it's been wounded.