I mostly picked up this book because I liked the cover and thought it was going to be another WWII book that I might like.
As many of you know, I love war novels so I thought this was going to be one that would appeal to me for that reason alone. Plus I kept seeing it popping up on a number of other social media pages that I follow and I thought, 'why not' when it came up for review.
But in my mind, I wasn't really sure that it was going to stand out at all. WWII is such a flooded genre and it's sometimes hard to find a WWII novel that 'stands out', so basically I gave this book 50/50 odds that it was going to be a standout read for me.
Summary
In 1942, Europe remains in the relentless grip of war. Just beyond the tents of the Russian refugee camp she calls home, a young woman speaks her wedding vows. It's a decision that will alter her destiny…and it's a lie that will remain buried until the next century.
Since she was nine years old, Alina Dziak knew she would marry her best friend, Tomasz. Now fifteen and engaged, Alina is unconcerned by reports of Nazi soldiers at the Polish border, believing her neighbors that they pose no real threat, and dreams instead of the day Tomasz returns from college in Warsaw so they can be married. But little by little, injustice by brutal injustice, the Nazi occupation takes hold, and Alina's tiny rural village, its families, are divided by fear and hate. Then, as the fabric of their lives is slowly picked apart, Tomasz disappears. Where Alina used to measure time between visits from her beloved, now she measures the spaces between hope and despair, waiting for word from Tomasz and avoiding the attentions of the soldiers who patrol her parents' farm. But for now, even deafening silence is preferable to grief.
Slipping between Nazi-occupied Poland and the frenetic pace of modern life, Kelly Rimmer creates an emotional and finely wrought narrative that weaves together two women's stories into a tapestry of perseverance, loyalty, love and honor. The Things We Cannot Say is an unshakable reminder of the devastation when truth is silenced…and how it can take a lifetime to find our voice before we learn to trust it (summary from Goodreads). 
Review
I love when a book just takes hold of me and doesn't let go. This was a book that I wasn't terribly excited to read and honestly kind of blended in on my review schedule and wasn't necessarily a 'standout' book that I was looking forward to. But when I picked it up, there was so much to love about this book and I was completely hooked and fell in love with many aspects of this story!
I haven't read anything by this author before so I had nothing to gage this one on, but this book had so much to recommend itself. A love story, history, a little domestic drama, and of course an alternating time period narrative. I loved how this novel switched from past to present. It really kept the story moving for me.
This novel was en emotional, heavy hitting book! I wasn't prepared for how much I loved it. Each part of the book (past and present) was well researched with the characters being fully realized and compelling. I loved reading both stories so much.
This book really looks at how war effects people, even long after it's over. I think that was a very impactful perspective that really drove home the overall plot of this book. It was such an interesting theme and worked so well in this book.
It was a touching novel which just got me right in the feels. I don't want to give away too much, because honestly this is the kind of book that you experience rather than read the reviews. Just trust me, this is a wonderful book that is well written, interesting, and will stay with you long after you finish. I know that I continue to think of the characters even now!
Book Info and Rating
Kindle Edition, 448 pages
Published March 19th 2019 by Graydon House
WHERE TO BUY (AFFILIATE LINKS)
About Kelly Rimmer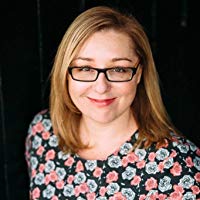 Kelly Rimmer is the USA Today best selling author of contemporary fiction novels including Me Without You, The Secret Daughter, When I Lost You, A Mother's Confession and her most recent release, Before I Let You Go. She lives in rural Australia with her family.
For further information about Kelly's books, and to subscribe to her mailing list, visit http://www.kellyrimmer.com.
Connect with Kelly
.
Kelly Rimmer's TLC Book Tours TOUR STOPS:
Monday, March 11th: Where the Reader Grows and @wherethereadergrows
Tuesday, March 12th: Book by Book
Wednesday, March 13th: Bookish Bliss and Beauty
Friday, March 15th: Chick Lit Central
Monday, March 18th: @booktimistic and Booktimistic
Wednesday, March 20th: Novel Gossip and @novelgossip
Monday, March 25th: @readingbetweenthe_wines
Thursday, March 28th: Patricia's Wisdom
Thursday, March 28th: From the TBR Pile
Monday, April 1st: Books and Bindings
Thursday, April 4th: Girls in Books and @girlsinbooks
Friday, April 5th: The Lit Bitch
TBD: Tuesday, March 19th: @booksandpolkadots