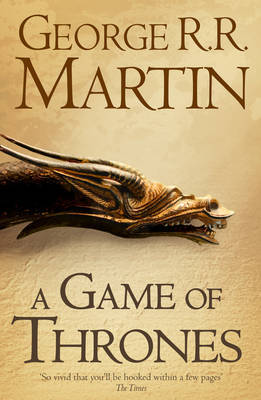 I've been nerd-ing out these last few weeks. I saw a co-worker with a copy of A Game of Thrones and she asked me a few questions about the prologue.
It's been two years since I read the first novel so I gave her a recap from memory.
Well I went home and thought I wonder if I gave her the right answers…I'll re-read just the prologue. Well the next thing I know I'm 100 pages in!
I love this series. It's so rich, textured, and character driven. I can't say enough good things. You don't have to be a fantasy reader to enjoy this series. It's one of the best books and series I've ever read hands down.
But thinking back to my first review two years ago, I don't think I thought that about the book. I decided to do a re-review on A Game of Thrones to see what all I picked up this reading that I perhaps didn't on the first go around.
So I am not going to give a lot of background on this book since you can see it all from my first review.
One of the things I remember not liking about the book initially was how long it took me to figure out what was going on. I would say on my first read, I went through about 150 pages before I figured out what was going on.
There were strange names and spellings of things that I couldn't really understand. Plus I didn't know what was important in the reading and what wasn't. For example, was the story about Lyanna Stark and Robert important or could I just gloss over it?
Later I discovered that it was important and I had to go back and re-read that part. Not to mention I spent countless hours on the ASOIAF Wiki trying to navigate Westeros!
Last time I also felt like I rushed through a lot of the story because I was so enraptured with the overall novel and in such a hurry to find out what happens next.
This time was much different. I read slowly and savored the story and I read everything carefully. I did spend a lot of time on the Wiki again but not because I was lost and trying to navigate, but so I could gain a deeper understanding and perspective of how certain people and events worked together in the novel.
Let's be honest, Martin's novels aren't for the casual reader. They are complex, tedious, intelligent reads. You can't miss a thing so you really need to be focused on what you are reading.
I find that reading AGOT this time, I did better when I could read for at least an hour at a time. I could get through 2-3 POV chapters and analyze them in short increments rather than reading for hours at a time trying to digest everything.
I found that I picked up more of the story this time around. I could sort out what was important in the plot and could see where it would fit in. I got a lot more out of this book with the second reading. I felt like Westeros really came alive this second time, the cities especially became more 'real' to me.
For example, in Pentos, there were lots of references to other cities and people from places like Lys, Bravaos, Quarth, and Asshai that I didn't notice before. There were references to other religions within Westeros as well orders such as The Faceless Man and the red priests of R'hllor.
In AGOT, there is a lot of foreshadowing and symbolism that we can glean with another read through which I enjoyed immensely. I have a whole new respect for the magnitude of this series now after re-reading it.
There was much more set up and hints to future books and plot lines and character arcs that I didn't catch the first time either, or perhaps didn't interpret correctly.
With this go around I found myself scouring the discussion boards for theories and predictions for future books. I found subtle hints in the first text which made me wonder about future relationships and events.
So I literally lived on the discussion forums for HOURS while reading this book. I couldn't help but get goose bumps at some of the predictions I saw which of course only makes me want the next book to come out like NOW.
Looking back on my original review, I also posted a set of discussion questions which I linked here. I am looking at these questions with an entirely new perspective now.
I think I should clarify one thing…in regards to question #4, this is more about Robert and his perspective of the events not necessarily what actually happened. In my original discussion I answered question #5:
How do you feel about Jon's choice to join the Night Watch? Do you think he is giving up his life and his gifts/talents? Do you think his choice is an honorable one? How did you feel when the Lord Commander gave Jon his family sword?
I stand by my original answer to this question even after this re-read. However I think the gift of Longclaw now has a deeper meaning and symbolism which will play a larger part in future novels.
If you are thinking about reading the A Song of Ice and Fire series, I highly recommend it. It's a complex novel with ambiguous characters…no one is completely evil or completely good, they have both light and dark in them.
The magnitude and size might be intimidating but entirely worth it. Reading it again I got so much more out of it so I you raced through the first time, I recommend another go around to fully appreciate what you are reading. But one thing is for sure…..you don't want to fall asleep in Westeros, you might miss key details in the novel!
Challenge/Book Summary:
Take Two Review Book Edition: A Game of Thrones (A Song of Ice and Fire Book I) by George R.R. Martin
Kindle Edition, 819 pages

Published January 1st 2003 by Bantam (first published August 6th 1996)

ASIN B000QCS8TW

Review copy provided by: Personal collection
This book counts toward the following Reading Challenge:
Hosted by:

NA

Books for Challenge Completed: NA
Recommendation: Original Review: 4 out of 5
                                              Take Two Review: 5 out of 5
Genre: Fantasy, epic, epic fantasy, Medieval fantasy, high fantasy
Memorable lines/quotes:
The things we love destroy us every time.

Most men would rather deny a hard truth than face it