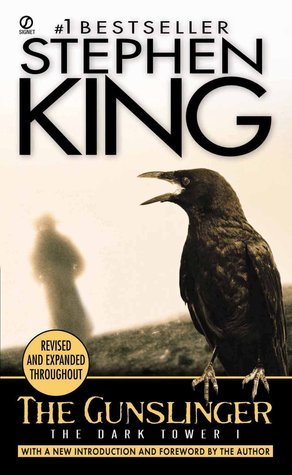 Well it was bound to happen at some point in my literary review career…..the dreaded DNF (did not finish) tag. But little did I know that this would happen to one book that I was convinced I would love.
When I finished the A Song of Ice and Fire AKA Game of Thrones series, I was longing for something similar and just as epic. I can't tell you how many times The Dark Tower series was recommended…..countless times.
I have it in paperback and on my iPad, that's how much I wanted to read it. I even waited until the mood was perfect and I was ready to get into an epic. And with the first trailer for the film being released recently, I knew the time was right for me to start this one.
So on a rainy spring Saturday morning, I sat down to start this long awaited novel….and then it happened…..the question looming in my mind…..what the f*ck am I reading?
Set in a world of extraordinary circumstances, filled with stunning visual imagery and unforgettable characters, The Dark Tower series is King's most visionary feat of storytelling, a magical mix of science fiction, fantasy, and horror that may well be his crowning achievement.
In The Gunslinger (originally published in 1982), King introduces his most enigmatic hero, Roland Deschain of Gilead, the Last Gunslinger.
He is a haunting, solitary figure at first, on a mysterious quest through a desolate world that eerily mirrors our own. Pursuing the man in black, an evil being who can bring the dead back to life, Roland is a good man who seems to leave nothing but death in his wake.
This new edition of The Gunslinger has been revised and expanded throughout by King, with new story material, in addition to a new introduction and foreword. It also includes four full-color illustrations in the hardcover and trade paperback formats (summary from Goodreads).
After reading 17% of the novel, my first thought was, 'I literally don't know what I am reading right now'. I felt like I was dropped down in the middle of some weird, post apocalyptic western ghost town in the desert with a character that I knew nothing about and who kept hiding things from me as a reader. There was this underlying sense that eventually I would get to know what was going on at some point, so I kept reading. But then by 30% I just couldn't do it anymore.
This book wasn't very long (300 ish pages) so for being 30% of the way through and still not have any idea what was going on, just bothered me. I realistically couldn't stand the thought of trudging through any more of this book. I wanted to, desperately, because I hear that the series gets better. However, trying to figure out what was happening was difficult. The main title character, the Gunslinger, did nothing to illicit any sympathy or kinship as a reader. I never felt like I knew who he was nor did I even LIKE him. Some would argue that that's the point of this book….to unsettle you as a reader but for me, I feel like there has got to be at least ONE character that I could connect to and why not the title character?
The Man in Black, was ominous and strange…I did want to know more about him and his purpose in the novel, but at the same time I wasn't even sure if he was real or just a figment of the Gunslinger's imagination.
Typically, even if a book isn't 'good', I will trudge along until I am done so that I can give a well thought out, structured, and fair review. However, in this case, I just couldn't stand the thought of trying to get through this strange and unsettling novel.  After 30% I knew that this one just wasn't for me.
Now that said, Stephen King is a literary giant. He's written countless novels and this series is HUGE among sci-fi/horror/fantasy fans. I am sure there is a lot to love about this series, or else why do so many people love it? Maybe it's just me. Maybe I was expecting something completely different. Maybe the mood just wasn't right. Or maybe Stephen King just isn't for me. I haven't read any of his other books and I don't like his movies, not because they are horror (horror is fine both in cinema and literature) but something about the films and books just overwhelms me. I feel confused by the story structure and like I'm missing something huge but year I can't put my finger on what.
In the end, this just isn't for me. Will I attempt it again? Maybe but not any time soon.
Challenge/Book Summary:
Book: The Gunslinger (The Dark Tower #1) by Stephen King 
Kindle Edition, 336 pages

Published July 1st 2003 by Signet (first published June 10th 1982)

Review copy provided by: Personal collection
This book counts toward: NA
Hosted by: NA
Books for Challenge Completed: NA
Recommendation: 1 out of 5 DNF (DID NOT FINISH)
Genre: fantasy, dark fantasy, epic, horror
Memorable lines/quotes: NA